Publications by Lois Lorimer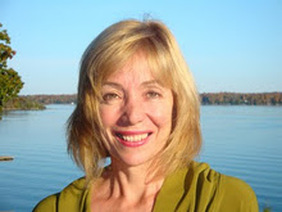 Stripmall Subversive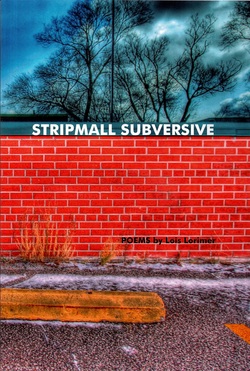 Buy Now from Amazon
Stripmall SubversiveLois Lorimer
Published by Variety Crossing Press, December 2012ISBN: 978-0-9812279-6-2
Stripmall Subversive
muses on the violence in neglected inner suburbs, seemingly quiet moments in nature and the breathtaking beauty of place. Lorimer leaves her imaginative imprint on waterways and rural landscapes that startle us with her skilled use of metaphor.
"That stripmall is all too real, but the subversion of Lorimer's poetry is subtle, shining and sophisticated."
-Molly Peacock
"This first collection marks the arrival of an already accomplished poet."
- Ian Burgham
---
---
Animal Companions, Animal Doctors, Animal People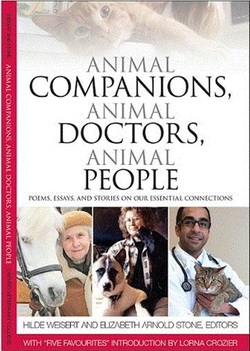 One of Lois' poems is included in this anthology of poems, essays and stories about the extraordinary connection people have with animals arranged in four sections:
The Work of the Animal
Animal Doctors
Passages
Imagination Itself.
Published by
the Ontario Veterinary College at the University of Guelph in 2012.
Edited by Hilde Weisert (Poet) and Esizabeth Arnold Stone (Dean of the Veterinary College).
Contributors include:
---
Laura Boss
Lorna Crozier
Mark Doty
Maria Mazziotti Gillan
Leslie Heywood
Kathryn Kirkpatrick
Patrick Lane
Gardner McFall

Jananne O'Connell
Molly Peacock
Erika Ritter
David Schuman
Timea Szell
Hilde Weisert
Marjory Wentworth
_The Bright Well: Contemporary Canadian Poetry About Facing Cancer


_

Lois features two poems in this anthology published by Leaf Press in 2011.

Edited by Fiona Tinwei Lam

MICHELE LANDSBERG: "The intensity of living through and perhaps surviving cancer and its treatments is so extreme – the dread, the streaming inner narrative, the moments of giddy joy at being still alive – is superbly captured by poetry. Here, in astonishing images and lucid shards of insight, Canada's poets share the most intimate experiences of the disease we all fear. They give us words and pictures with which to snare the demon fear and celebrate the return of life. Reading these poems is to remember, recognize and ruefully greet those physical details and human frailties we cancer survivors share. It's a strange relief, a remembrance, the release of tears and the return of rejoicing."

Available from: Leaf Press, Box 416, Lantzville B.C., Canada VOR 2HO: www.leafpress.ca

ISBN 978-1-926655-34-5
---
Between the Houses

_Lois's second chapbook, Between the Houses was first published in 2010 by Maclean Dubois, Hillend House, Hillend, Edinburgh, EH10 7DX

ISBN 978-0-9565278-0-6


"Rooted in place and memory, Lorimer's poems capture a wind sweep of emotion as they muscle through the pages of this vivid first collection. Between the Houses marks the emergence of a mature and distinctive voice."- Catherine Graham
---
Last Fall Showing

---
Additional Publications

_PUBLICATIONS

Literary Review of Canada, April 2012 [ http://reviewcanada.ca/magazine/2012/04/ ]

Surface and Symbol, Scarborough Arts Council, Spring 2011
Arc Poetry Magazine, Arc Poetry Annual September 2010: Poet as Art Thief Issue
Hart House Review, Hart House, University of Toronto, 2009

POEMS

"Vanity Table"

"Spring Burning at Noon"
"Forms"
"The Rectory Donegal" , "Antrim Coast"
---
_© Copyright 2013 LoisLorimer.com. All rights reserved.